Comfort and versatility are paramount on the Crosstown. Excellent for beginner, recreational, and fitness riders that want to go from pavement to rail trails. - Fuji A2-SL custom-butted alloy frame - SR NEX suspension fork with 63mm travel - Shimano hydraulic disc brakes with 160mm rotors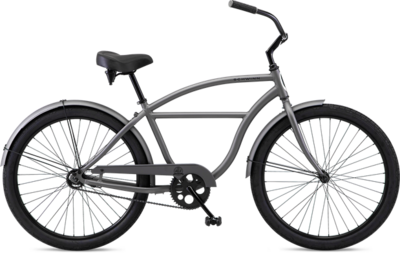 NEXT LEVEL CHILL All about the chill factor? These cruisers keep riders laid back and at ease while cruising to the beach with friends. The Schwinn® ALU cruisers take the classic cruiser look to the next level with a modern, lightweight, aluminum frame; your choice of fun color options; as well as the much-loved Schwinn® Relaxed Position geometry.
Across campus or around town, Sun's Cruz 3 will get you there in style. The agile aluminum frame boasts classic lines for a cool, old-school flavor. And, the 3-speed rear hub lets you pick the perfect gear, whether you're racing to get to class or work, or just climbing the hill back home. Plus, the springer saddle and wide, swept-back bars deliver an awesome upright position, while the fenders keep you clean and dry even when road conditions are less than ideal.